The Brisbane Doctor Who Fan Club presents...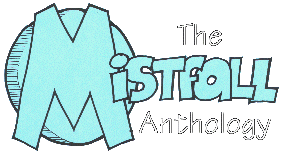 compiled by David 'Runcible' Hutchison
Mistfall is the fanzine produced by and for members of the Brisbane Doctor Who Fan Club. Since its first issue first went on sale in March 1990, Mistfall has provided insights on many and varied topics relating to Doctor Who, and Mistfall has also developed into a chronicle of the BDWFC, from its early days in 1990-91 as the series finished, through the depths of the six-and-a-half years fans spent "in the wilderness", wondering if their favourite series would ever return, to the heartening spectacle of the rousing 103-strong attendance at the Club's first screening of the new Doctor Who movie in June 1996.
The articles presented in this series are just some of the many which have graced the pages of Mistfall over the last seven years, and they are split into four basic categories:
Opinion -- A considerable amount of text printed in Mistfall over the years has been in the form of opinion pieces on various topics and issues relating to Doctor Who fandom, ranging from discussions on the possibility of how Time Lords and TARDISes could come to exist, to retroactive continuities (retcons) of Dalek and Cybermen history. A prolific author in this field is Anthony B. Martin, whose semi-regular column "The Orthographic Orator" has run throughout most of Mistfall's history.
Events -- Mistfall has also chronicled (and reflected on) major events in the series' and the Club's respective histories, including the visits to Brisbane of Peter Davison in 1983 and the late Jon Pertwee in 1990, the 1993 Thirtieth Anniversary, and more recently the deaths of Jon Pertwee in May 1996, and Terry Nation in March 1997. Mistfall's tributes to the great men are included in this volume.
The Lighter Side -- Over the years, Mistfall has never been a publication to shy away from the odd zany comment or two. Whether it be from our old favourite The Phantom Missing Episodes Dealer or one of our semi-regular humourists, such as Father Terry Tully, you can always be guaranteed a laugh or two from this lot.
AND COMING VERY SOON.....

FICTION -- Many different fiction stories have been printed in Mistfall over the years, ranging from novel theories on established events in the series' history to new and original adventures for the Doctor and his many travelling companions, which may not have seen print elsewhere.
PSHAW! CLASSICS -- Peter Shaw, artist and cartoonist, holds a unique place in Mistfall's history, being the only person who has contributed to all 25 issues published thus far. This category includes a sample of the best of Peter's cartoons and artworks from the back catalogue.
We hope you enjoy The Mistfall Anthology. There is plenty more where these came from. :-)

-- David Hutchison